For anyone looking to find out if
Jon Snow
(
Kit Harington
) survived the
Game of Thrones
Season 5 finale, you're probably going to have to wait until Season 6. That's because the HBO show has extremely tight security when it comes to keeping their spoilers from getting out. In fact, according to actor Will Tudor, who portrays brothel worker Olyvar, the rules are even stricter than we thought!
"It's very much need-to-know," Tudor reveals of the
Game of Thrones
script process to
Digital Spy
. "Only a couple of the core cast get the entire scripts. But they are plastered with their names, so if they went missing, then we'd know exactly where the leak came from!"
Sounds like stars like Peter Dinklage are keeping a close eye on their scripts — who wants to get blamed for a leak?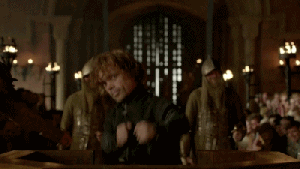 "But for me, I only ever received my scenes," Tudor goes on to say. "And would have to guess what happens in the whole season, based on those few scenes!"
It seems kind of crazy to us that the actors don't even know the context of the scenes they're working on, but Tudor doesn't seem to have much trouble with it. "Most of the time it's so well-written that it's fairly self-evident what's going on," he says. "It's always been a joy to work on."
With security around the scripts being so tight, it seems our best bet for spoilers is to keep looking out for set photos in Belfast. Oh,
hey, Kit Harington
.